Post by spuds on Jan 14, 2010 19:19:31 GMT -6
Not sure where to put this topic so please move it if it fits better elsewhere.
Also Im putting the link to Life on the Homestead where we have done a lot on this if the topic interests you.
eastcherokee.proboards.com/index.cgi?
-----------------------------------
I did a project on setting up a small solar cell setup.It gives you an idea on what is involved,just scale it up to what you need.Im Primarily an offgrid hobbyist so this isnt about connecting solar to also tie into your Mains power companies system.The link below has the whole thread where we discussed what this little setup might power
............................
eastcherokee.proboards.com/index.cgi?board=electricgaswoodoil&action=display&thread=3323
First thing to do is hook the 2 panels together.Wire the positive to the positive of each panel together and add a pigtail wire to go to the charge controller.Same story with the negative wires.Im using 12 ga wire because its such a short run to controller
CLICK TO ENLARGE PICTURES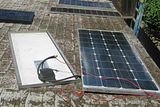 Flip the panels over....We are using the 2 panels on the left (180 watts total of 12 volt panels),the 3 on the right and above will be used on a different system to charge the battery bank that powers the house during power outages
Run wires through wall...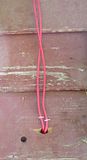 And mount the Charge Controller.This doodad controls panel output to get maximum charge rate from panels while avoiding overcharging battery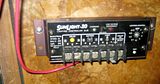 Now make wires to run from battery to charge controller
Oops,forgot to wire inverter to battery.This device changes the 12 volt DC battery power to 120 volt AC household power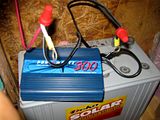 Connect those battery wires then run them up to the Charge Controller
Now Connect the wires from the panels to the Charge controller.One should be ideally black (The 2 wires on left) But I have a lot more red wire so red it is.I did mark the end of the negative wire with black zip ties to tell it apart.Also note there should be a fuse in both the panel and battery circuit,I will add later as I didnt have handy.Regular 20 amp automobile type fuse is fine.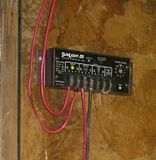 There we have it,all hooked up and devices plugged into the inverter receiving 120 volt AC power
Running a fan,a CF Light bulb and a string of LED lights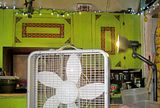 Costs for this system retail is 259.00 for Gel cell sealed 12 volt solar battery
About 800 to a thousand for the panels
Charge controller is 120 dollars
Cheapie inverter 300 watts is 40 bucks or so.
I had the wire.
Total is new retail is 1200-1400 dollars
--------------------------------------------------------------------
I paid 35 dollars for the panels,one was free because it was covered in Calcium (got it pretty clean with CLR,output is at specs),and other 70 watts I got for 35 dollars because frame is bent
The controller was hooked to a panel I bought,gave to me free.
Battery free for testing it for guy I bought solar from.
Inverter 40 bucks.
I had the wire.
Total cost used parts and freebies....75 dollars!!!
.........

Got those other three panels hooked up to the house battery backup batteries.10 amps now going into those.
TOMORROW i WILL HOOK UP A COUPLE LIGHTS OUTSIDE DOOR NEXT DOOR AND ON BACK SERVICE PORCH WHERE BACKUP SYSTEM IS.Dang caps lock.
I have a couple 12 volt tractor lights I got at thrift store,35 watts,that will run off the next door system from the morningstar controller,the porch will get a truck backup lamp installed and run off of the Lyncom controller.
Hey,I have a little solar on MH,but running all the power next door,ie,lights and fan is very exciting stuff!
...........................
See that battery? Its the Mercedes Benz of batteries.
Talked to the guy today and told him it tested out fine,that it is a nice battery.But it was manufactured March 05,so 4 years old and thats my only reservation with it...... (which it really isnt) as its received so little use if indeed it came from a hospital back up system.
Hospitals only test backup systems every few months for only a half hour or so,then back to grid power.So rarely used and barely drawn down. Means a lot of life left.And gel cells last far longer than lead acid batteries and I got 10 years out of them.
He said good,he will buy them.Asked how many I want,I said what price.He didnt know but said CHEAP,they are used batteries after all.
I said if CHEAP I'll take 16.
Sooooo lets see how that plays out.Ive never dreamed of owning a bank of Dekas,16 of those is 4000 dollars,waaay out of my league.
That would be twice the power my 8 Trojan L-16's put out,and THAT isnt exactly a slouch of a system itself.Lasted 10 years BTW,very good for Lead/acid batteries.
Sure wonder what his price will be.Know in a few days.
-------------------------
Added 20 amp fuses to battery line and solar panel line as its a 20 amp Charge controller...
6 Deka batteries and small inverter,6 more Dekas coming hopefully....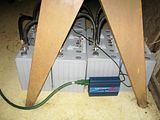 Inspected and passed by Code Enforcement...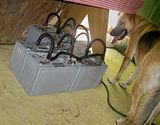 .............