Post by jack on Feb 14, 2007 15:22:06 GMT -6
Gidday
Waste not want not sure brings back memories for me. It is a phrase I heard many times when I was a boy.
Our farm was seriously uneconomic and for many years it was, or almost anyway, simply if we didn't grow it we didn't eat it.
Being a farm of a sort was a help because my father would kill almost all meat we ate too, whether it be sheep or chooks. Because we had no electricity we had no refrigeration either so meat could not be kept for more than a week. As a result we would be eating a whole sheep almost every week right through my childhood.
And yes, I do still love my mutton.
We had two vege gardens, one by the house and one by the cowshed and that one would have the poop shoveled straight onto it from the yard and we sure got a huge amount of veges off that one. In other words, we were not wasting even the cow poop but eating it, through the veges of course.
Back to the sheep, we would also eat the offal, like the liver, heart and kidneys and my favourite was always and still is, the heart.
But when we were low on our killers, numbers of weather sheep that is, my father would also skin the head for us to eat. I still do this on occassions too, but only on occassions because the head is so bloody hard to skin.
Ifin any of ewe jokers is interested in trying sheeps head here is how to do it.
There is no easy way to skin the head that I know of and you just have to knife the skin off. My father always used to take the eyes out too so I still do too but I know of people who don't bother and even eat the eyes as well:-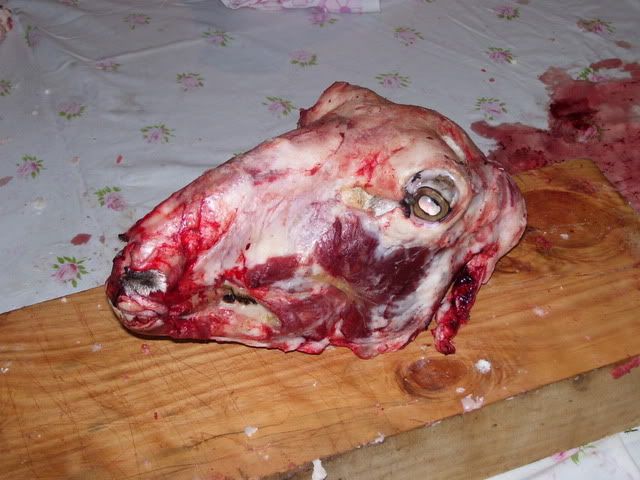 Next step is to cut the lower jaw off by sawing through the rear of the jaw like such:-
Now the next thing I do is to saw the end of the nose and upper jaw off. This makes for easier cleaning:-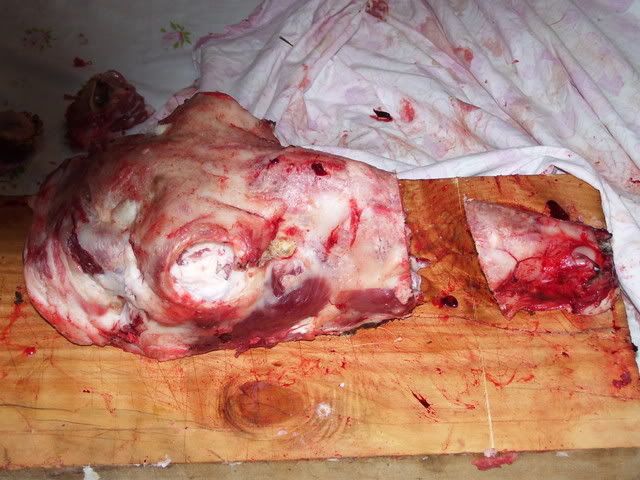 I then saw through the end of the lower jaw behind the front teeth and infront of the molars but never try to saw the teeth because they will stuff your saw as they are soooo hard. It is then easy to cut with a knife and separate the tounge and two halves of the lower jaw thike this:-
Now saw the skull in half down the centre line of the head:-
And the two halves can be separated like this:-
The next step I take is to wash it making sure the teeth are free of any rubbish and the sinuses are properly cleaned out.
At the moment I am the only one home, that's why I can bugger around getting all this done, but the good thing is I get to eat the head on my own because it is so nice. But there is far too much good meat in a head for one person so I will only be eating half at a time. I just pop it into the old crock pot (slow cooker) and through in a bunch of herbs and set it going:-
When it's cooked I just through the herbs away and now look at that for a beautiful feed:-
How said I didn't have any brains? Look at how the meat is just falling off the bone.
IF YOU DARE TOUCH THAT I'll BIT YOUR HAND OFF1
Yum.