Post by Pharmer Phil on Jul 5, 2005 6:40:13 GMT -6
Most of us have them Down on the Ground...and Running! (vining)
Some are a lil further along.
We must address a couple issues ...Now.
DIG IN
Bury the vines, the Main, the secondaries. This sets up root growth along the vines and promotes the growth of the GIANTS.
Prune off the Tendrils
, makes burying them easier.
Prune Off the
Tertiary Vines
These are the vines that come off the joints of the Main and secondary vines. These will Make your Patch very dense if left, Causing many poblems with Air flow, insect detection, and You getting in there to measure your GIANT for an estimate of growth weight! (we will cover this procedure when we have measureable fruit)
First, there will be Male flowers, way before any female flowers appear.
It is Very important to have the Female flower, that you want to Mature into your GIANT, at about
12-15 feet minimum from the base of the plant.
Male Flower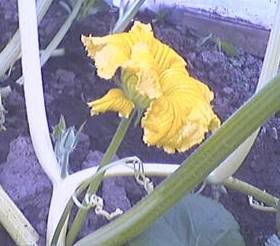 Female Flower
(notice the small Pumpkin at the Base)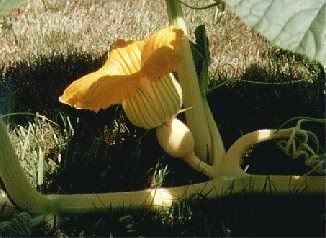 Any female forming before this, Must Be Removed.
You only want to let 2-3 females to start to develop pumpkins, then, pick the most vigorous...
AND KILL THE OTHERS!

Thats Right Pholks, you Must Cull the vine to ONE pumpkin, to achieve
MAXIMUM PUNKINAGE!!!
Male flowers, You Should be able to have at least two to three at the
Right
time...That time being pollination time.
You Can pick the males and keep them in the fridge in a glass of water, or collect the pollen, either way, You will need the pollen, for You should DEFINATELY Hand pollinate.
A Female that is not pollinated properly will
ABORT
the young pumpkin, making it shrivel on the ground.
Other reasons include, Poor insect/bee activity in your area, You have used an insecticide which will limit beneficials pollinating your flowers, Other Pumpkins or squash growing nearby (to avoid Cross-pollination)
Having SEX with Yer Pumpkin
or Another Reason to Name yer Pumpkin
:

:
Time pollination for the day that a female flower opens it's bud. With a little experience, you can usually tell the night before when it is ready to open.
Pollinate the plants in the early morning. The female flowers will close later in the day.
Select a male flower. Pull off the petals to expose the stamen which contains the pollen.
To make sure the pollen is mature. Touch the stamen with your finger and see if tiny yellow specks(the pollen) come off on your hand.
Using the stamen itself (some growers opt to transfer it to a soft paint brush). Gently rub the pollen onto the inside stigma of the female flower. Make sure to come in contact with all segments of the stigma.
Hand pollination is now complete!
Lights cigarette!
*You should pollinate at least two-three fruit on each vine. Later on, you can select which ones to keep.
The best fruit are those with five or six sections to the stigma in the female flower.
Well Punkin NUTZ, this has been exciting...Think I will go Take a
Cold
Shower ;D