Post by spuds on Feb 11, 2012 4:05:47 GMT -6
My latest solar panel story.Even if you dont hook em up now you can still claim the credit if you just stick em in the barn for now.Dont even have to itemize taxes,you can file simple 1040 and still take the credit.I took credit on my previous pile of panels.
Prices like these are dirt dirt dirt cheap,crazy cheap,if you have ANY thoughts of using solar,lighting a chicken coop or outbuilding,an electric gate,a solar charger for the tractors,etc etc etc,do it NOW.Dont let this crazy cheap opportunity pass you by . Wound up with 794 watts of panels for 1420 dollars.Gave me a 50 watter free because glass cracked,and half price in a 75 watter with a damaged frame,
Paid 2 dollars a watt
for the rest.
Worth the drive of 90 miles each way for sure,average price right now is about 4.50/watt plus shipping on new panels.Saved about 2000 dollars,wow!
,.............

Feb 1,2012
Going to get some panels tomorrow for get this....ONE DOLLAR a watt!!!!!
120 watt (13 ea) and 75 watt (4 ea) solar panels.
Asking $1.00 per watt
. Email or Call Ron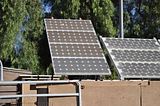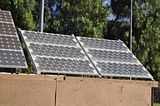 ====================
and one of these 170's for my Bud's golf cart project
$130 for 150's.... $150 for 170's both slightly used. Quantity prices available. $290 ea. for the last 20 230watters! NEW
Great Products, great price. Installing yourself returns 15-20% on investment. Also you get a 30% tax credit.
Amazing time to install a Photo Voltaic electric system. Best if you have a south facing roof!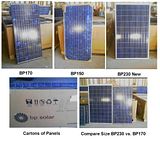 =========================
Feb 3,2012
Got 1500 watts for 1350,
after the 30% tax credit comes to 63 CENTS/watt

,now thats AMAZING,nice older,VERY DIRTY panels need cleaning(Cleaned with steel wool and vinegar to remove calcium buildup on glass fronts,they look like they just came off the factory floor now,amazing!!!!!),he threw in the aluminum racking too,we did good!


=======================
My site is poor here for solar,if SHTF I would deploy em here anyhow (I do have three small systems set up now,do lights next door and a pretty nice setup on Dodge Truck)...
pharmerphil.proboards.com/index.cgi?board=eco&action=display&thread=11606
....would do lights,some tv,comp,mixers,etc.....,these are more for 'the move' if it ever happens,got about 3800 watts now,thats enough to run all we run here now easily.So set to off grid in style far as electricity goes.
Hard to believe I now have what would have been 16,000 dollars in panels just a few years back for about 3,500 (with the tax credits) over a couple years,just cant believe it.
Cant believe those prices.When I started buying I paid 4 dollars/watt,Bud paid 4.50 in 2007 and we thought he did good.Bad economy has been very good for solar buyers.
Cant pass it up,every time in past when i know I cheaped out and didnt jump I lost out, I was right,learned lesson,when the bargain presents you have to buy then .
Say it again peoples,its time to buy solar if you ever wanted some. [image]