Post by spuds on Feb 25, 2015 19:52:35 GMT -6
Disclaimer-I am not a Dr and this isnt medical advice.Its net obtained material on what folks do with colloidal silver,whether or not its for you is up to you.This is put up as FWIW info and you decide what to do with it.As with all web based material,YOU decide if its valid or not.I am NOT selling anything and have zero financial interests in this.
The claim is its effective on 650 different organisms per the web.Used to be a standard of practice before the FDA came about Ive read,I wont go into politics and money on how drug treatments get approved,you should know or understand that by yourself and your studies.
==========================
This is a work in progress. It shows how/why,the generator using a 9 volt battery,in box is a current limiting diode I reckon,I will get the schematic and parts list from friend.The laser pointer shows a beam,when nano silver is in suspension it makes a beam of light thru the water.Its made with GOOD distilled water,like Sparkletts,no off name brands please.
This qt batch will take about 5 hours to make,its an art,not a science so times vary.
I have a total dissolved particle meter on order for 7.75 from amazon,parts lists also will be later,thread should take about a month.
Here are some teaser photos and I will list some uses for it in a bit.
The silver leads are 9999 pure silver,purest you can get.999 is ok,pre 1965 coins or sterling silver is not to be used,not pure they say.Most expensive item,the silver,should be able to make a generator in the 20 dollar range
This was found on the web,author unknown.If you are the author and dont want it printed,let me know and I will remove it.I dont remember the link to it,sorry.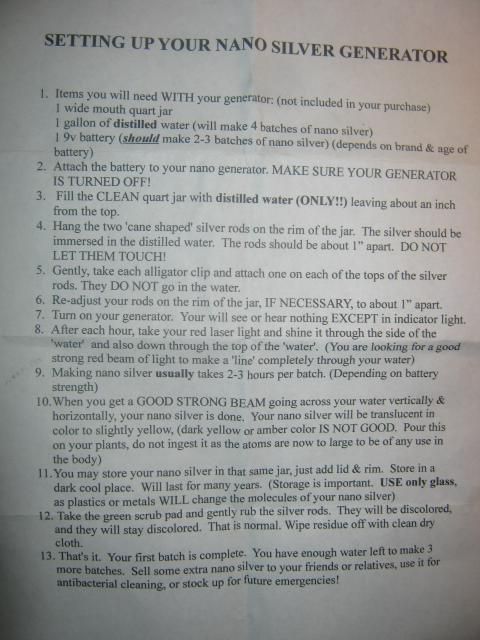 actual color is clear
see that partial red beam of light? That actually makes a beam all the way thru,couldnt photograph it,pure water no beam,its reflecting off the nano sized silver
Scientists Better Understand How Nano Silver Works
blog.colloidsforlife.com/colloidal-minerals/colloidal-silver/how-nano-silver-works/
May 2, 2011
Nano Silver coated materials are an increasingly popular choice for fighting germ growth. The antimicrobial properties of nano silver can be used to keep food fresh, as a natural antibiotic preventing disease transmission in hospitals, or as a way to prevent bacterial odors around the home.
Although nano silver's antimicrobial properties have long been known, it is only recently that science has endeavored to fully understand how they work. A new study, which used scanning transmission electron miocroscopy, was able to take a close look at what happens when nano silver and ionic silver are fighting pathogens.
For the full nano silver/ionic silver study, click here.
iopscience.iop.org/0957-4484/22/17/175101/
Uses for nano silver,some youtubes